Gegenspannend / Reciprocal Tension
Symposium | Exhibition | annual meeting

Our IKG meeting GEGENSPANNEND/RECIPROCAL TENSION took place in Wiesbaden from September 29th to October 1st, 2022.
As always, we were able to realize a fine and multifaceted display with works by our members and guests, this time at the Hafemann Gallery.
A special focus of the meeting was our symposium, which took place on October 1st in the lecture hall of the Museum Wiesbaden.  With impulse lectures and subsequent debate, the panel discussed the challenges that arise in this world in turmoil.
The fact that Goethe, also burdened by political events, wrote his Western-Eastern Divan in Wiesbaden cuts a wide swath back to the artistic reflection of a perpetually endangered world. In the Divan, the poem entitled Hegire (Refuge) stands at the beginning: North and West and South splinter/Thrones burst, empires tremble.
Out of this so topical insight of fragmentation, Goethe attempted to link the West and the East anew in poetic form. Diwan means assembly – in our assembly we also tried to gather, to connect, to reflect.    
The symposium was followed by a reception at the Nassauischer Kunstverein and a guided tour in the wonderful Fluxus exhibition by director Elke Gruhn. Fluxus liquefied hardened imagination – that is what art is capable of.
We sincerely thank all participants and sponsors.
The following artists have been elected as new members in Wiesbaden and have accepted the election:
Alba Dúrbano, Petra Trenkel, Sibylle Omlin, Ute Lindner, Patrick Huber, Claudia-Maria Luenig, Anna Rudolf, Kerstin Gottschalk, Birgit Luxenburger, Friederike Klotz, Andreas Wegner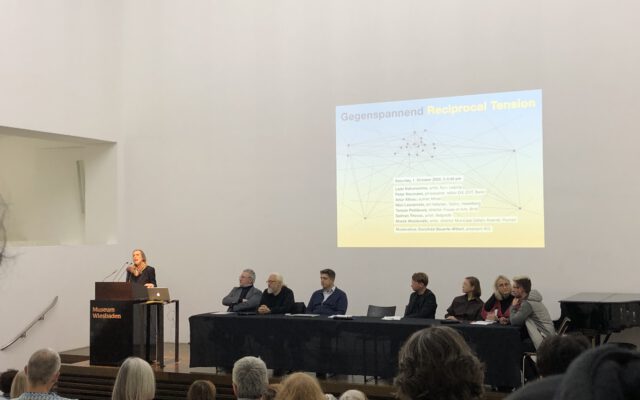 Recording of the Conference Reciprocal Tension
Saturday, 1. October 2022, 2 pm
Lecture hall, Museum Wiesbaden
Speakers:
00:00 – Welcome: Jörg Daur, deputy director Museum Wiesbaden
01:50 – Thanks to the sponsors: Ina Bierstedt, secretary IKG
02:56 – Introduction: Dorothée Bauerle-Willert, president IKG
08:35 – Lada Nakonechna, artist, Kyiv, Leipzig
20:40 – Peter Neumann, philosopher, editor DIE ZEIT, Berlin
31:31 – Artur Klinau, author and artist, Minsk
42:11 – Terezie Petišková, director, House of Arts, Brno
55:02 – Selman Trtovac, artist, Belgrade
1:05:12 – Marek Wasilewski, director Municipal Gallery Arsenal, Poznan
1:25:36 – Questions and comments from the audience
Moderation: Dorothée Bauerle-Willert, president IKG
Thanks to the sponsors: 
Hessisches Ministerium für Wissenschaft und Kunst
Landeshauptstadt Wiesbaden 
SEG Stadtentwicklungsgesellschaft Wiesbaden
Nassauische Sparkasse
Gottfried Hafemann
Participating IKG Members:
Elke Albrecht, Dorothée Bauerle-Willert, Ina Bierstedt, Maria Blondeel, Jens Brand, Noël De Buck, Bettina Brach, Georg Dietzler, Rainer Eisch, GUP-py, Wolfgang Hahn, Lisa Hoever, Katja Hoffmann-Wildner, Gereon Inger, Gisela Kleinlein, Artur Klinau, Käthe Kruse, Michael Kurzwelly, Elvira Lantenhammer, Silke Leverkühne, Angela Lubič, Simone Mangos, Ulrike Mundt, Jürgen Olbrich, Terezie Petišková, Nora Schattauer, Klara Schilliger & Valerian Maly, Andreas Schmid, Eva-Maria Schön, An Seebach, Petra Spielhagen, Christopher Smith, Nele Ströbel, Suzy Sureck, Nanae Suzuki, Anne Thurman-Jajes, Susanne Tunn, Selman Trtovac, Dagmar Varady, Marek Wasilewski, Albert Weis, Sofi Zezmer
Guests: Iryna Herasimovich, Lada Nakonechna, Walter Yu, Anna Mészáros, Peter Johansson, Tomáš Kopecky, Peter Neumann, Anyuta Wiazemsky Snauwaert, Shanglie Zhou, Yu Hirai
Performances: Käthe Kruse, Klara Schilliger & Valerian Maly, Gereon Inger