Loop
Vienna 27th – 31st of September 2007
At our meeting 2007 at the beautiful space of the Academy of Fine Arts we were discussing the Idea of Europe. In Vienna as an intersection of different cultural streams we were re-thinking the prodigal mosaic Europe, where still God lies in the detail: A Europe which is not monotony but polyphony, turning into dissonance sometimes. A Europe characterized by particularity which reveals itself in the pleasures and burdens of self-criticism, a Europe which is a landscape of remembrance with, a Europe with its sense for the tragic vulnerability of the condition humaine , with its requisites of literature, philosophy and arts. In a sort of jam session different positions and attitudes sounded together. Invited were artists and artist groups dealing in manifold manners with this idea of Europe, with its borders and transgressions of borders, this also between the medias, art, architecture, music, applied art. Parallelly in Vienna works of all IKG-members were screened in a loop as a sort of digital suitcase.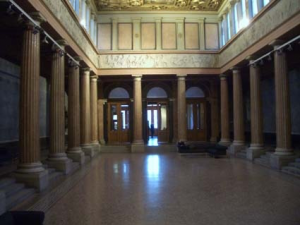 Academy of Arts, Vienna
Participants:
Diana Mercedes Alonso, Renate Anger, Dorothée Bauerle-Willert, Hartmut Böhm, Jens Brand, Monika Brandmeier, Terry Buchholz, Tibor Gayor, Wolfgang Hahn, Wolfgang Hainke, Harald Hofmann, Sibylle Hofter, Nan Hoover, Hetty Huisman, Tatjana Ilic, Richard Kriesche, Silke Leverkühne, Dora Maurer, Rune Mields, Michal Murin, Markus Mussighoff, Alexander Nikolic, Willi Otremba, Marica Radojcic-Presic, Norbert Radermacher, Josef Ramaseder, Eva.Maria Schön, Radomir Stancic, Anna Tretter, Dagmar Varady, Michael Willhardt, Thomas Wörgötter
Guests:
Thies Echtermeyer, Sven Eggers, Edi Freudmann, Thomas Gamsjäger, Ulrike Grossarth, Can Gülcü, Grieta Jergens, Irena Kelecevic, Miodrag Krkobabic, Ulrike Lua, Michael Moser, Wolfgang Musil, Fabian Niermann, Lukas Pusch, Gerhard Pfennig, Monica Radermacher, Branislav Todorovic, Petra Willhardt
The project was supported by the Academy of Fine Arts Vienna and sponsored by ERSTE österreichische Sparkasse Privatstiftung
Thanks!